Flowerboxes - Long Lasting Flowers
Choose the perfect surprise for your loved one, such as Flowerboxes, Roses in a Glass Dome or Infinity Bouquets. If you are looking for an original idea for beautiful and romantic gifts - flowers in a box will be the ideal solution.
Selected for You
What our customers ask us about?
---
Are all the flowers in the Rose Du Château boxes eternal?
We are pleased to offer our customers a wide selection of various types of flowers in boxes. In addition to eternal roses, which, thanks to a special stabilization process, keep their freshness for a period of 2 years, we also offer eternal peonies. They also stay fresh for 2 years.
Does the flowerbox need care?
Eternal roses in boxes do not require care. They do not need to be watered. In order to maintain the maximum freshness period, the flowers should not be exposed to strong sunlight or excessive ambient humidity.
How to order flowers in a box?
First, choose the flower box you are interested in. Then click the "ADD TO CART" button. At this step, it will also be possible to attach a little letter with information for the Recipient. Then we go to the checkout. At this stage, it is necessary to provide the recipient's data and delivery address - if it differs from the address of the ordering person. After entering the postal code, a calendar will be displayed that allows you to select an interesting delivery date as well as an hourly range. The final step is to choose the payment, place the order and make the payment.
What is the order fulfillment time for a flowerbox?
Orders for flowers in boxes placed by 3 p.m. can be shipped from us the same day. To most EU countries, the delivery time is 2 business days. After entering the postal code of the delivery address, the estimated delivery date is displayed. It is also possible to select a later date.
Can a little letter be attached to the flowers in the box?
Yes of course. The content of the leaflet attached to the flowerbox should be provided after adding the product to the basket. The number of preferred characters should not exceed 200. Notes are printed on elegant paper and placed in an envelope

Colorful roses in a box are a bouquet of beautiful flowers, placed in an elegant flower box. Due to its unique composition, the whole looks phenomenal. A careful combination of the timeless charm of roses with an elegant frame in the form of an elegant box does not leave anyone indifferent. Colorful flowers in boxes are a subtle message, hidden in velvety rose petals, telling about how special the gifted person is to us.
We offer flowers in a box with wonderful intense colors - from classic red, through pinks, blues, whites and tea colors to unique black. The color of the boxes is even richer - from subdued and classic colors of black, white or beige to surprising purples and greens.
Roses in boxes are practically maintenance-free - the flowerbox does not require watering or other care, which, compared to a traditional bouquet, makes it a beautiful and trouble-free gift. Captivating deep-colored flowers, framed in an elegant flocked box, are the perfect way to show your attention to someone.
Choosing from a wide range of colors, match the color of flowers and boxes to the occasion or to what you want to express with your flowerbox. Let the recipient enjoy the beautiful roses in the box and remember you for many months or even years.

Flowerbox life stages
---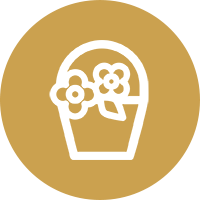 I was hand made. I am an elegant box that will soon become the perfect place for carefully selected roses. My color is one of 14 to choose from. I have a round, square or wonderfully romantic shape, i.e. in the shape of a heart.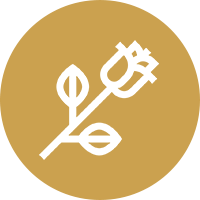 The skillful hands of a professional florist put a unique flower arrangement in me. The roses in the box have been arranged to create a beautiful and uniform layer. There are as many as needed to make everything look perfect. Therefore, the number of flowers in boxes varies depending on the shape of the box and the size of the rosebuds. It does not matter, however, because each Flower BOX is beautiful without exception. You can also choose the color of the roses from 12 great colors and shades.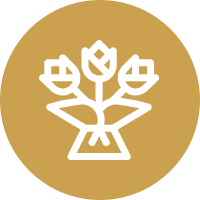 I am now properly packed and ready to go. The flowerbox creation technology developed by Rose Du Château allows the flowers in the box to be shipped over long distances, also to EU countries.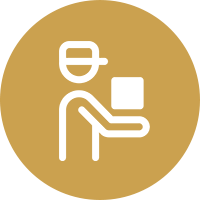 A professional courier company came to pick me up. They are trusted couriers who have experience in delivering such exclusive shipments as everlasting roses in boxes. I feel safe and look forward to the onward journey.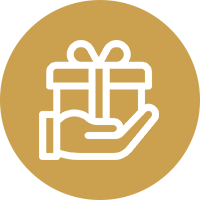 I'm already being delivered! Our flowers can be delivered on weekdays from 10am to 5pm.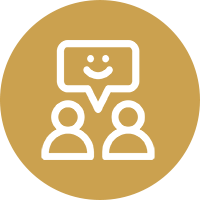 Are you around here somewhere? Do you see what I see? It is an enthusiastic surprise and enormous joy on the face of the person you gifted. Great! It was worth it. I have just communicated - as best I can, that SHE is someone precious and special to you. I am just like a flowerbox, but I am proud that I was able to help you express these wonderful feelings in such a great way.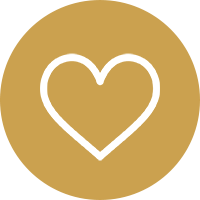 It's me again - your Flowerbox. I will stay with this special person for longer. Two years to be exact - that's how eternal roses in boxes live. I will remind her every day how important she is and how much she means to you. Thank you for choosing me for this wonderful assignment. I will do my best!